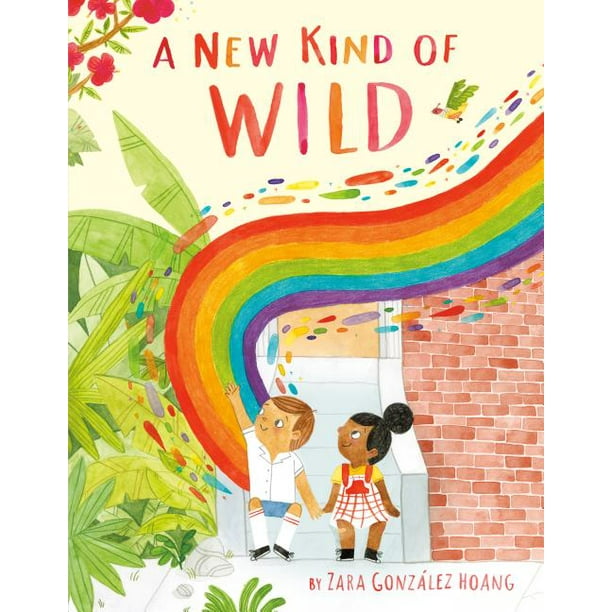 I was born in the city. Then moved to the suburbs. Then moved to a city in another country. Then to a city back in this country. Then to an island. Then to a farm. Then to an old town. Then to…you get the idea. Change can be scary, and there's always something I miss when I go. But I've also learned how to look at the world in open and creative ways, and always enjoy making new discoveries.
Children, especially when they're moved without any say in the matter, sometimes need help in finding the good in the new. A beautiful new book that sums up this journey is A New Kind of Wild (Dial Books for Young Readers), written and illustrated by Zara Gonzalez Hoang. I caught up with Zara to learn more about how Ren, with the help of Ava, adjusted to his new world.
Me: How did you get into creating children's books?
Zara: I've always loved children's books but I never thought I would make them myself. I was afraid of the idea of drawing a character and keeping them consistent for an entire story, I didn't think I could do it. I even remember telling a friend that I would NEVER illustrate children's books! I think about that and laugh now – that was my fear talking for sure. When I finally gave myself permission to try to make a children's book, I realized this is where I should have been all along! I'm thankful to my oldest son, because I think reading books to him every day and exploring all the different stories and artwork in picture books made me realize there is such a wonderful range in what artists can do and it gave me the courage to try to make them myself.
A New Kind of Wild is a beautiful look at looking at the world. What was your inspiration and process for this book?
Thank you! This book is really special for me because it started with inspiration from a very personal place. My Dad was born in Puerto Rico and moved to New York when he was a kid and that was a really hard experience for him – leaving everything he knew and moving someplace completely different. He went from a place where he knew everyone to a place he knew no one and barely spoke the language. He had to learn how to navigate this new space.
With A New Kind of Wild, I wanted to explore that feeling. Of being displaced. Of being so comfortable in your home and then moving somewhere else. At first, you might not be able see anything good about the place, whatever magic your old home had is certainly not in this new place – but if you can give the new place, the new experience a chance, then maybe, you can find that there is magic there, even if it isn't exactly the same.
For the illustrating of the book, the process was very much learning while doing. I originally was planning to do the book digitally – at the time I sold the book I was working pretty much exclusively digitally. I had been experimenting with traditional media and I had this urge to do the book traditionally, but I was afraid to suggest it because I wasn't sure I could do it. I was lucky though, because the Editor who bought A New Kind of Wild had seen some of the experiments with traditional media I had been posting on Instagram and asked if I would consider doing the book traditionally. I jumped at the opportunity but also had to figure out HOW to illustrate a book like that. So there was a lot of trial and error. I'm so happy with how it turned out and this book really was a turning point for me because these days I work almost exclusively with watercolor, gouache and colored pencil (with some digital magic to put everything together). Working on A New Kind of Wild really changed the way I create my work and helped me figure out how I wanted to create books going forward.
What was it like releasing a book and being an artist during this new kind of time?
It was a bit of a blur…A New Kind of Wild released in April of 2020 – and it was already going to be a crazy time for me because I had a baby at the end of January so I thought I was going to be out doing school visits and bookstore readings sleep-deprived, with a baby in tow…Instead, everything had just shut down and all of the stops on my tour got cancelled one by one. At the time, we thought, maybe by summer we'd be able to travel again but, well, obviously, that did not happen! I tried to do some virtual visits and readings and such but figuring out how to do all that while also juggling a new baby and my older son home from school all day proved to be too much. So it was not the book launch I thought it would be! It was fine though, towards the end of the year the baby was bigger, my other son had fallen into a rhythm with online school and I was able to figure out virtual events a bit more. So, my "tour" was a bit later than expected, but I have managed to figure out ways to engage with kids and their adults virtually and that has been incredibly fun. It was definitely a different launch than I'd anticipated though! Generally, this has been a really tough time to be a parent and it's tough to also be an artist. I have books I should be working on and art I'd love to make but it all has to come in fits and starts because I need to deal with virtual school for my older son and just general life for the baby! My husband and I try to juggle things as best we can but, some weeks I definitely get more done than others.
I feel like I am complaining about how hard it is to get creative work done right now, and it is, but it is an extraordinary privilege to be able to work from home, to still have work to do, and to be able to spend this much time with my boys and my husband, so when things are extra tough, I try to think about that for awhile and it usually makes me feel a bit better.
Can you share what you're working on now?
            I'm working on a really fun book written by Anika Aldamuy Denise and published by HarperCollins called Gato Guapo – it's a counting book featuring some mischievous kitties and it has been such a joy to work on during this very stressful time. It doesn't come out until 2023, which seems like light years from now, but also I am hopeful it will come out when visiting schools and bookstores are a thing we can do again! I also have a book coming out this October with Candlewick called Mi Casa is My Home written by Laurenne Sala. It was the sweetest text to illustrate about home and family – and it was super special to me since I was illustrating it while pregnant with my youngest son. I have a number of writing projects as well but it has been really difficult for me to write during this time. My normal process involves complete silence, uninterrupted time, an empty house and a lot of me talking out loud to myself….that process doesn't work with the house full of everyone and only an hour to myself – if I'm lucky – to work at a time. So I've been trying to cultivate a process that works within the chaos and I've been trying to be kind to myself and tell myself that if the writing doesn't happen until I get my quiet back, that's ok. I've been jotting down story thoughts in a notebook, so at least I will have my scraps of ideas when I am finally in the mind space to sit down and write!
I love how your book celebrates the creative spirit! Any advice for young artists and storytellers?
Thank you! I think the best advice I can give, is to keep a notebook. It doesn't have to be anything special, but I do think it should be a notebook and not just pieces of loose paper. And then, draw in it. Write in it. Paste pictures into it. Play with it however you are inspired. I think it's so important to have a place to put your ideas and drawings – a place dedicated to your creativity. And the best part about them is once you fill a few up, on days you are feeling discouraged or out of ideas, you can open one up and flip through them. I find, with my own notebooks that when I am having a rough creative day, a flip through my old notebooks will fill me with so much inspiration!
Thanks, Zara!!
You can find out more about Zara and her work at zaralikestodraw.com. And at @zarprey on Twitter and Instagram.